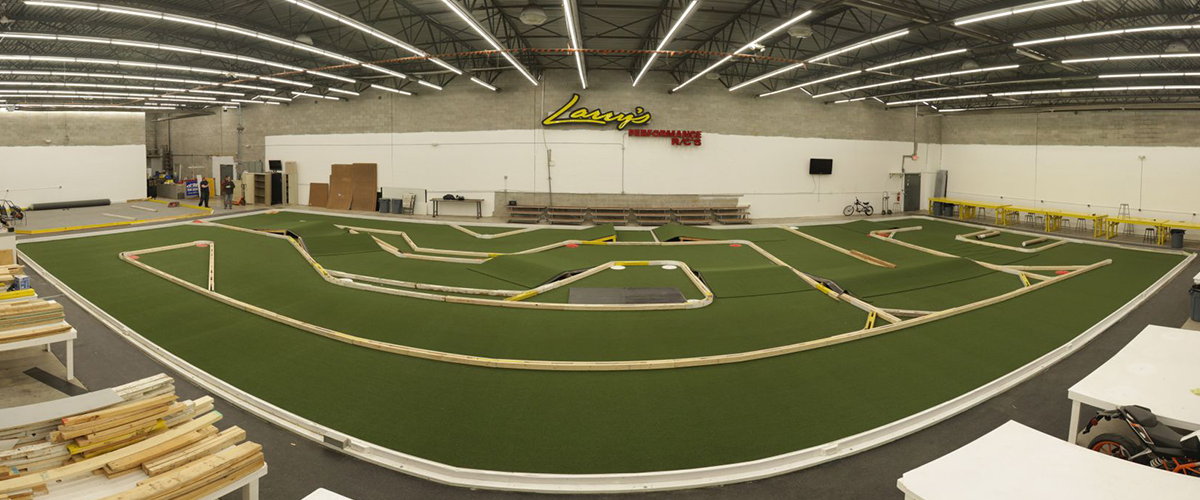 Open Racing
Looking to see how your skills stack up against the competition? Larry's Performance R/Cs hosts friendly race events twice a week, Sunday during the day and Tuesday evenings. These events are open to all ages as long as you have your own RC vehicle. Check out our Track Events page for more information on specific times and other special events.
Experienced Tech's
Need a hand figuring out how to repair your RC vehicle? Being in business for over 25 years, we have the knowledge to make sure things are done right. Whether it's a RC truck, car, boat, plane, or drone, we have someone here to help you out. Give us a call today to see how we can make your RC experience better!
Multiple Tracks
Whether you're new to RC racing or a competitive racer, we've got something for you. Take your pick of one of three RC and Slot Car tracks that will challenge you at every turn. Our new indoor turf racing track is sure to keep you practicing for hours. Come back each month where a new track design is waiting to be conquered.
RC Car Rentals
Temporarily Not Available
Not sure if RC racing is something for you? Or just looking to kill some time? We have got something for you too! Larry's offers RC car rentals in 30 minute intervals with no age restriction. So if you're thinking about getting into the RC hobby world and you're not ready to spend all the big bucks come in and give our rental cars a try.
Testimonials
Have been there many times for parts. Staff is knowledgable and helpful. Today I bought a new mip driveshaft and the package was missing two parts (a sealed package so this is by no fault of the store). When I called to inquire not only did they agree to provide the parts but bc I live far away one of the staff members meet me half way between my house and the hobby shop after he was off work.
That's customer service!!!

I've been going to Larry's for a couple years now. Sure, they get busy but when it's your turn, they give you their full attention and as much time as you need. They have always taken the time to answer my questions and they know their stuff. The prices are great too, comparable to online and sometimes even cheaper.
I love Larry's! I've bought several products from here, all good quality. The products are expensive but they are high quality and a lot of fun!

I've been to Larry's R/C over 2 dozen times in the last 6 months and will continue to return because their prices are great, the service is very good, and the racing is fun too! They are quite busy sometimes and it's hard to get an available associate, but when you do your getting complete attention. I can understand why most products are behind glass and the counter. Some of those small easy to steal parts need to be behind counters when they cost $50 and above. Thanks for great prices and service.

Great selection of parts, bodies and hop ups for off-road, on road, 1/4 scale down to 1/10 and 1/16 as well as planes, boats, slot cars.as well as a full size track (not dirt).